Catalyst™: A new Everything DiSC learning platform
Great News – Wiley has come out with a new engine/operating system of DiSC!
Catalyst™ is a new platform designed to make it easier for organizations to integrate DiSC into their work on an ongoing basis. It connects independent learning and facilitated sessions in a single, personalized space.
Everything DiSC on Catalyst is a game-changer. Your DiSC Profile is no longer just a PDF file – it is in a dynamic, live platform called Catalyst where you can see all of your workmates, how you are similar and different, and how you can work together more effectively. It truly is a "catalyst" for culture change.
Each Everything DiSC on Catalyst learning experience starts with our best-selling Everything DiSC Workplace application. From there, learners can continue their DiSC journey with other more specific DiSC profiles (Agile EQ, Management, Productive Conflict – stay tuned for more applications of DiSC coming in the future!). Wiley's future vision is to migrate and create more applications of DiSC to Catalyst so that DiSC will become a continuous learning experience. Whether it's learning to transform conflict or manage with impact, you will be able to continue adding value to your clients and learners over time using Everything DiSC on Catalyst.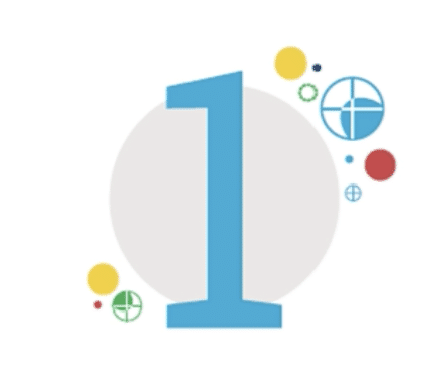 The Everything DiSC Assessment – each person is invited to take the online Workplace assessment which is powered and proven by 40+ years of research. This self-assessment informs the content and builds the foundation for an ongoing, personalized learning experience. As soon as the assessment is completed, participants will have immediate access to the Catalyst platform.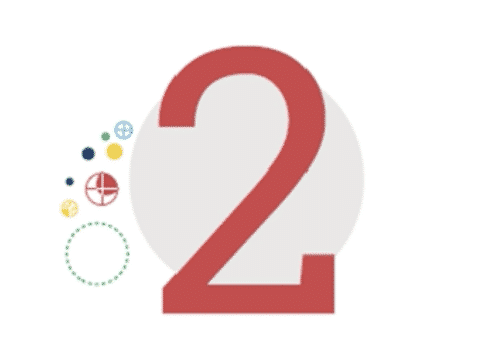 Catalyst – an interactive learning platform gives immediate access to the results of the assessment which allows learners to delve into their style and develop new skills. The platform houses all of the DiSC results for everyone in the learner's organization which means that it is quick and easy to get real-time tips and strategies about how to build better working relationships with others.
Workplace on Catalyst Facilitation. Brings the learner's DiSC results to life in an instructor-led experience that engages and educates. Possible to conduct as in-person training or as virtual training. Modules include scripted content, new learning videos, and activities. Short-format, modular design that is easily tailored to any group size or time constraint.
P.S. Catalyst currently works only in English and with English language profiles.
Introducing the Catalyst learning platform
Catalyst takes your Everything DiSC experience to the next level by making the hard work of lasting behavior change possible—even fun!
On Catalyst, learners will:
1. Take the Assessment
As the original DiSC provider with over 40 years of expertise, Everything DiSC offers a proven, scientifically validated assessment with a 90%+ accuracy rating from learners worldwide. Learners respond to behavioral statements on a five-point scale to measure their preferences and tendencies based on the DiSC model.
2. Discover Their DiSC Style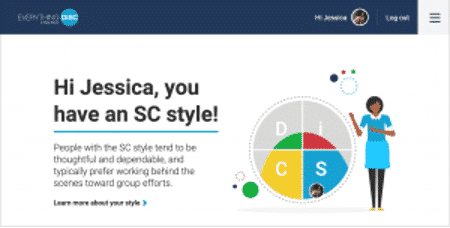 Catalyst delivers each learners' assessment results using a personalized, narrative-style behavioral profile. The personalized profile content:
Deepens self-understanding through the lens of each learner's unique DiSC style
Gives learners insights into their own preferences and tendencies
Lays the groundwork for a transformational learning experience full of "aha!" moments
3. Connect with Colleagues
The Find Colleagues feature enables learners to integrate DiSC into their day-to-day work lives. Learners can use this feature to:
Compare DiSC styles and gain tips for more effective interactions
Easily navigate through the platform to view comparison continua, actionable tips, and more
Adapt to the unique needs of each person and situation they encounter in real-time
4. Learn about DiSC·ology
This section guides learners through modules that familiarize them with the DiSC model and the theory behind it. The modules are:
The DiSC model
The 12 styles
DiSC research
DiSC theory
DiSC history
5. Access other DiSC assessments for Ongoing Learning
Catalyst offers a range of DiSC application content designed to help learners develop the social and emotional know-how for more effective interactions at work. After completing the first DiSC module (Workplace), the learner can continue their learning with the next DiSC profiles along with new facilitation from a certified DiSC trainer. This will help to keep DiSC alive in the organization and offer great follow-up training options for those who have already experienced DiSC once.
Investing in organizational culture should have a lasting impact – and now it can!
| | | |
| --- | --- | --- |
| Pricing Table | New Learner | Past DiSC Learner |
| Workplace on Catalyst (Base experience) | 15 Credits | FREE UPGRADE |
| Agile EQ on Catalyst (Add-on experience) | +10 Credits | +10 Credits |
*Past Everything DiSC (any profile) and DiSC Classic in English learners are eligible for a free Everything DiSC Workplace on Catalyst upgrade through December 31, 2021.
For more information, download the Everything DiSC on Workplace brochure.
If Catalyst sounds interesting and you would like to know more, please let us know here and we can introduce you the platform personally!